Halfsister Displays 11.11.2023
With: Ana Tabatadze, Sophia Tabatadze, Tamar Tskitishvili,
Anna Klump and Sophie Schön-Berianidze, Tina Siradze,
Atsuko, Saya, Francois Desormeau and Elene Duduchava
With food, drinks and boardgames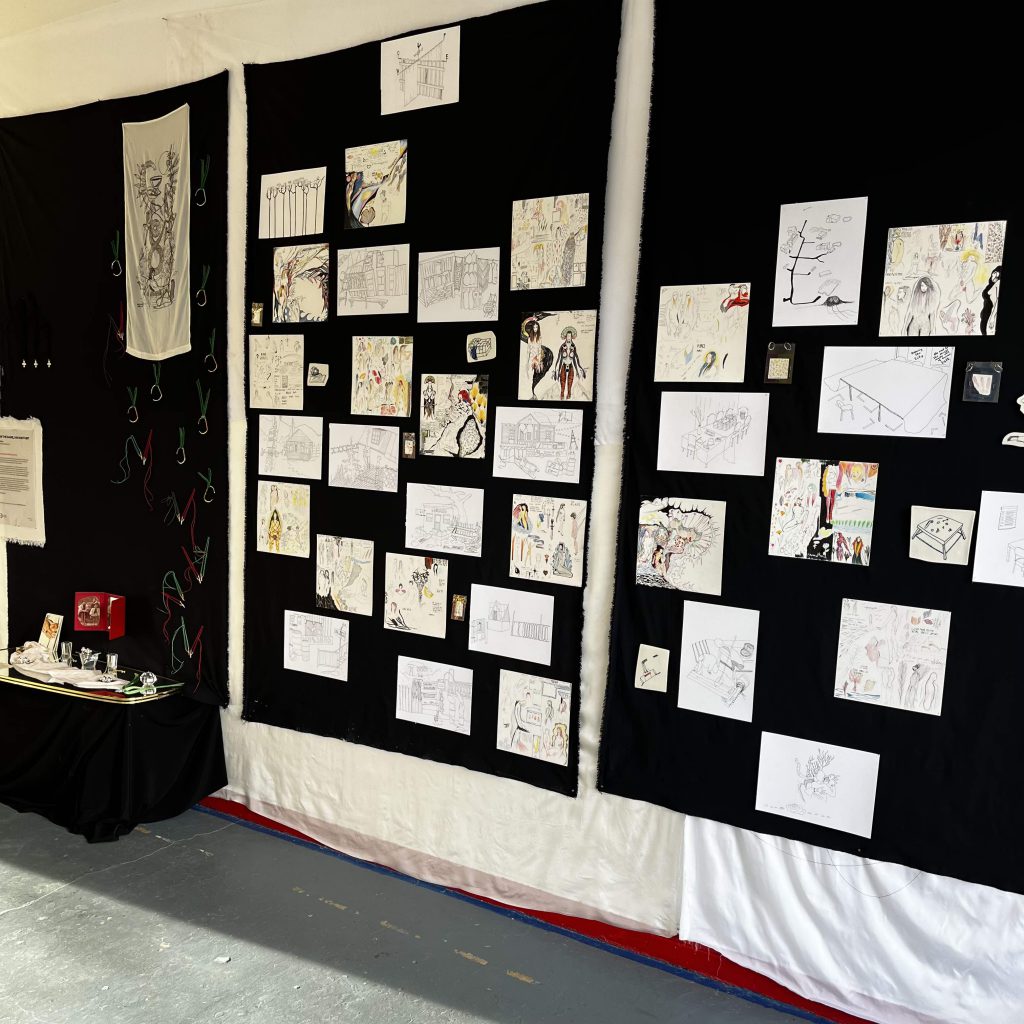 On Display
Tamar Tskitishvili – Dreamers Jewellery
Sophie Schön-Berianidze and Anna Klump – Verdable 03
Tina Siradze – Sunflower seed tasting and outfits
Ana Tabatadze – Drawings and tattoos
Francois Desormeau – I Ching reading
Elene Duduchava – Tarot reading
Saya – Cocktails
Atsuko "Torii Tea" – Japanese tea ceremony
At 14:30, 15:30, 16:30, 17:30, 19:30 and 20:30
Sophia Tabatadze – Installation and screening of the film Pirimze
At 18:00 (documentary 40 minutes)
Dreamers Jewellery started with a wish from Tamar Tskitishvili to make special jewellery for her friends as one-of-a-kind gifts; an idea that later turned into a startup. Tamar, who lives in Tbilisi, will present her new bracelets, pendants and rings at Halfsister displays; Besides the new pieces, Dreamers will have a video launch of the Spring-Summer 2024 campaign.
Verdable 03 is a mini "grow" table by berianastudio (Sophie Schön-Berianidze and Anna Klump) it has an open cylindrical monopole base specifically designed for plants and comes in three different sizes and colors. A colored steel base contrasts beautifully with the mirror or colored glass surface of the table presenting the plant or flowers as though they are floating.
Sunflower seeds are eaten a lot in Georgia. Tina Siradze will offer the seeds as they are sold in Georgia, in old newspaper cones. She will also bring the selection of her outfits to display and sell during the event.
After having a long break, Ana Tabatadze started making tattoos again and she will offer a limited number of tattoo flashes for this day. She will also display some of her wearable drawings.
I Ching, also called Book of Changes, is an ancient Chinese oracle book that answers questions referring to the text accompanying one of 64 hexagrams. There are several ways to read hexagrams and Francois Desormeau mastered the way to read the excerpt the way oracle means to you.
Elene Duduchava is Berlin based visual storyteller from Georgia and has long been interested in modern witchcraft and tarot reading. She will be a mediator between you and the tarot symbols.
Saya is a professional bartender from Tokyo that lives in Berlin. She creates cocktails with amazing names and tastes in order to bring new Tokyo vibes to Berlin.
Pirimze is a 40 minute documentary film by Sophia Tabatadze.
It researches social and visual changes affecting a six-floor edifice from the Soviet era, built especially to house repair and maintenance services. The theme unfolds a broader picture and shows what has been happening in Georgia since the collapse of the Soviet Union.
During the Matcha green tea ceremony with Atsuko you can see how the perfect bowl of matcha green tea is prepared in an artistic way and drink it directly. The groups of 5 people can enjoy the ceremony together at At 14:30, 15:30, 16:30, 17:30, 19:30 and 20:30 please write Atsuko directly to make an appointment at: service@torii-tea.de
Schöneberger Art 4-5.11.2023
With the works of Ana and Sophia Tabatadze
Halfsister is part of the gallery tour and open studios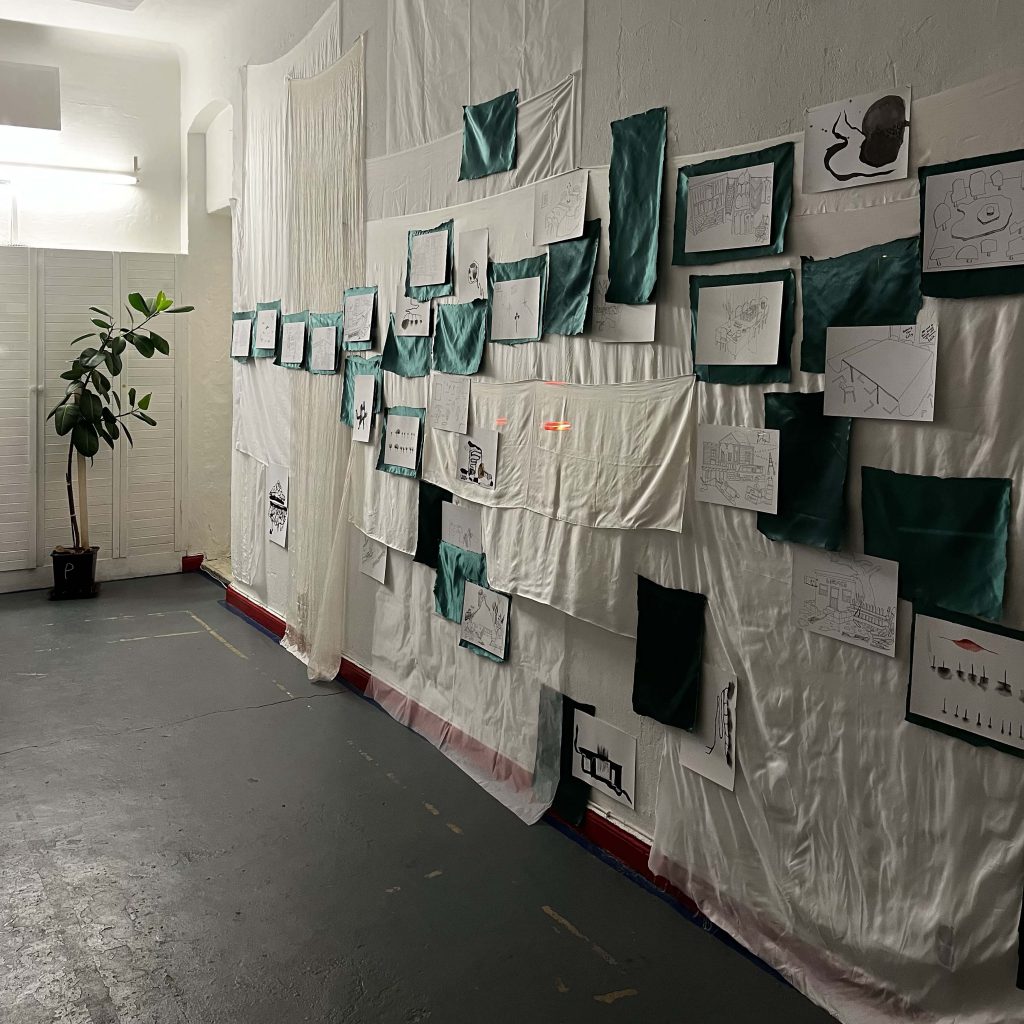 Halfsister Displays 23.09.2023
With:
Sophia Tabatadze, Ana Tabatadze, Irakli Kiziria,
Rienke Enghardt, Janka Tara Balkhausen,
Clea Carow, Giorgi Gago Gagoshidze
With food, drinks and boardgames.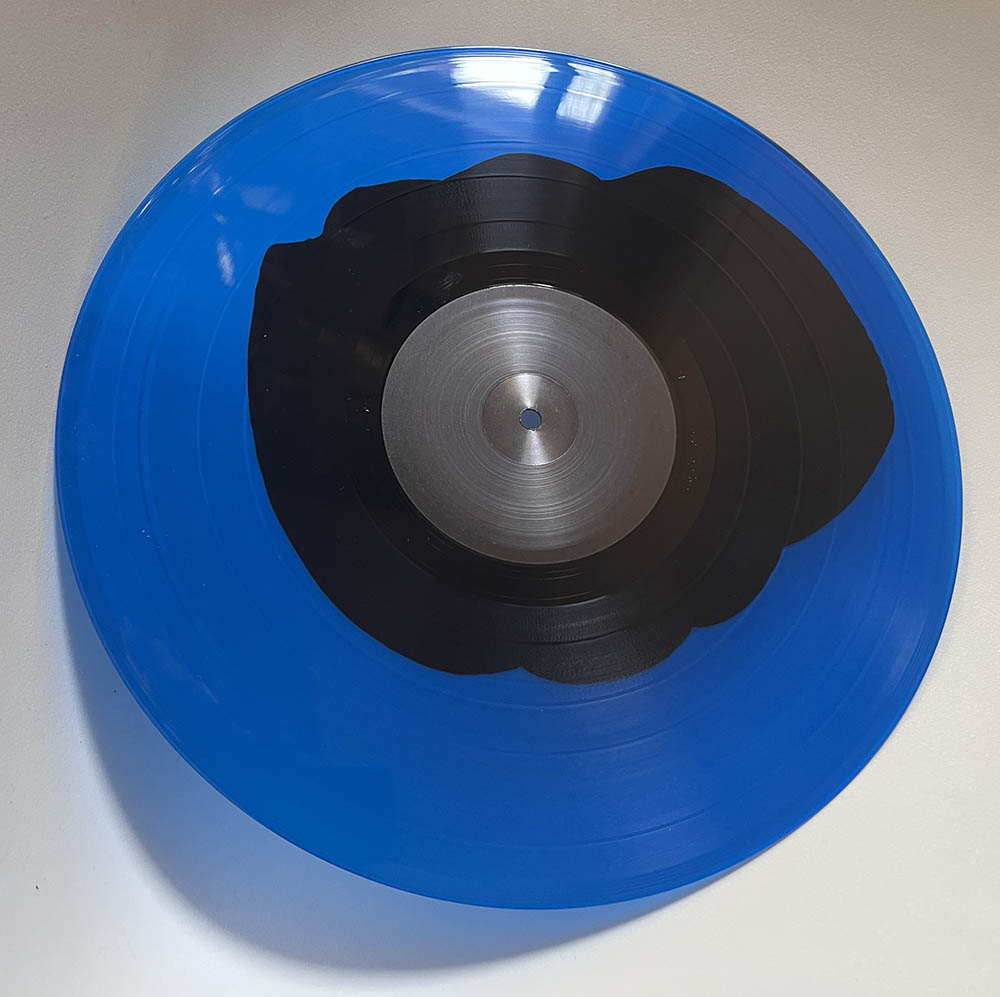 Mechanical Moon
On Display
Messy Kitchen and other paper works by Sophia Tabatadze
Poster with a messy kitchen as well other drawings,
postcards and coloring pages.
Necklaces and tattoos by Ana Tabatadze
Necklaces are new obsession of Ana, and you will be able to
see them in real for the first time.
There will be also limited number of tattoo flashes
you can chose from and get a tattoo.
For less brave ones there will be temporary
tattoos done in collaboration with Irakli Kiziria.
Mechanical Moon, record by Irakli Kiziria
Mechanical Moon, written & Produced by Irakli Kiziria,
is a retrofuturistic adventure of beautiful compositions
and pulsating rhythms which are weaved together over
the span of eight tracks.
Weather Report by Rienke Enghardt
Rienke Enghardt sends a quarter of her traveldrawing
to four artists from different countries. They connect a
new work outside the boundaries of her drawing.
The outcome is an unpredictable artwork: Weather Report.
Human Design by Janka Tara Balkhausen
You can get mini readings in Human Design in order to
understand your energetic fingerprint. Make sure you
know the day, time and place of birth of yourself or the
others you would like to get a chart.
Clothing and shoes by Clea Carow
Clea, who has been working with us since the very beginning
display her chosen pieces.
7 PM
The Invisible Hand of my Father by Giorgi Gago Gagoshidze
Video 24 min. 2018, with English subtitles.
The source of this film is personal life of Gago's father, Nugzari,
and traces a physical and a symbolic transition of Nugzaris right hand.
Halfsister Displays 8.07.2023

With:
Ana Tabatadze, Sophia Tabatadze, Kata Kovács, Tom O'Doherty
Yamil Rodriguez, Patrycja Rozwora, Anna Krenz and Mareike Wenzel
The theme for this Halfsister Displays was Collections. We displayed collection sets by us and others. We also had some food, drinks, back-gammon, clothing and fortunetelling in the form of coffee reading/ tasseography.
On display:
Collections of Ana and Sophia Tabatadze
Kata Kovács and Tom O'Doherty – 'Minute/Year: Seven Years'
Yamil Rodriguez – glass slides for Laterna Magica
5 PM – Patrycja Rozwora – book presentation 'Kitchen Conversations Cookbook: Homey Recipes from Artists'.
6 PM – Kata Kovács and Tom O'Doherty reading from the book 'Minute/Year: Seven Years'7 PM – Anna Krenz and Mareike Wenzel – lecture performance 'Sisters in Arms', about the political and literary friendship between the writers Bettina von Arnim from Berlin and Julia Woykowska from Poznan
Lecture performance is sponsored by Bezirksamt Tempelhof-Schöneberg: dezentrale-kulturarbeit.de/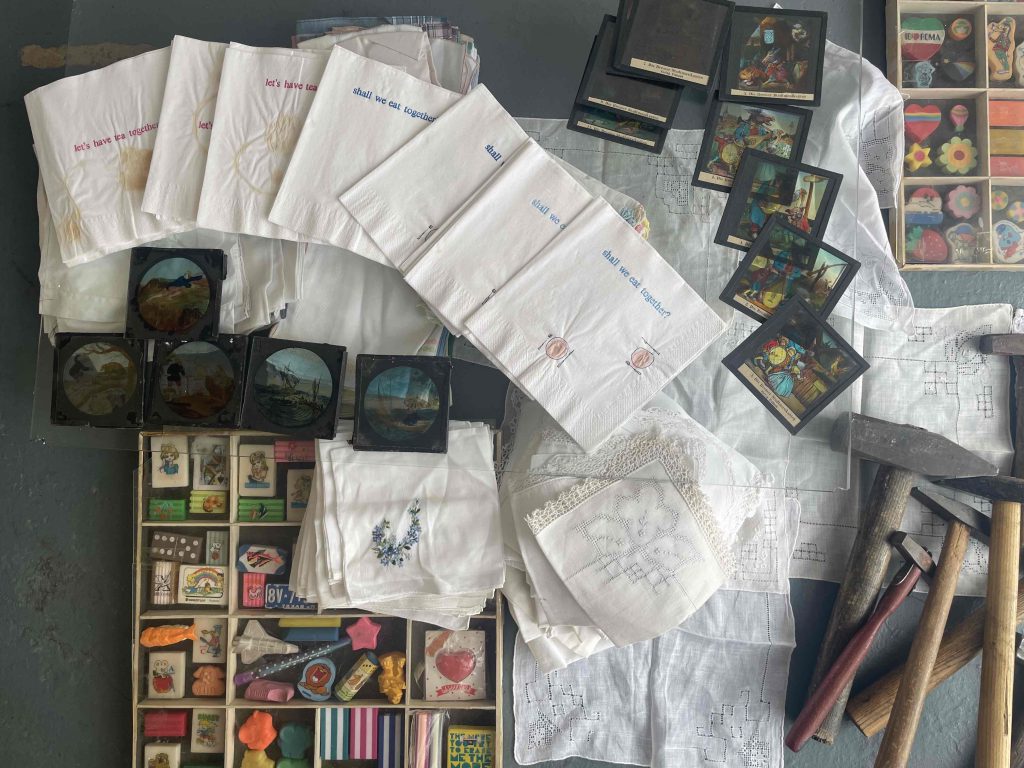 Minute/Year: Seven Years
Opening: June 16 at 7pm
June 17-21 from 12-8pm
Kata Kovács and Tom O'Doherty
A presentation of an archive
Over the seven years from 2016 to 2022, Minute/Year has generated over 2500 one minute recordings – one for every day. This layered archive is a durational process, and and index which develops, mutates, and degrades over time.
For more info visit: https://www.minuteyear.com/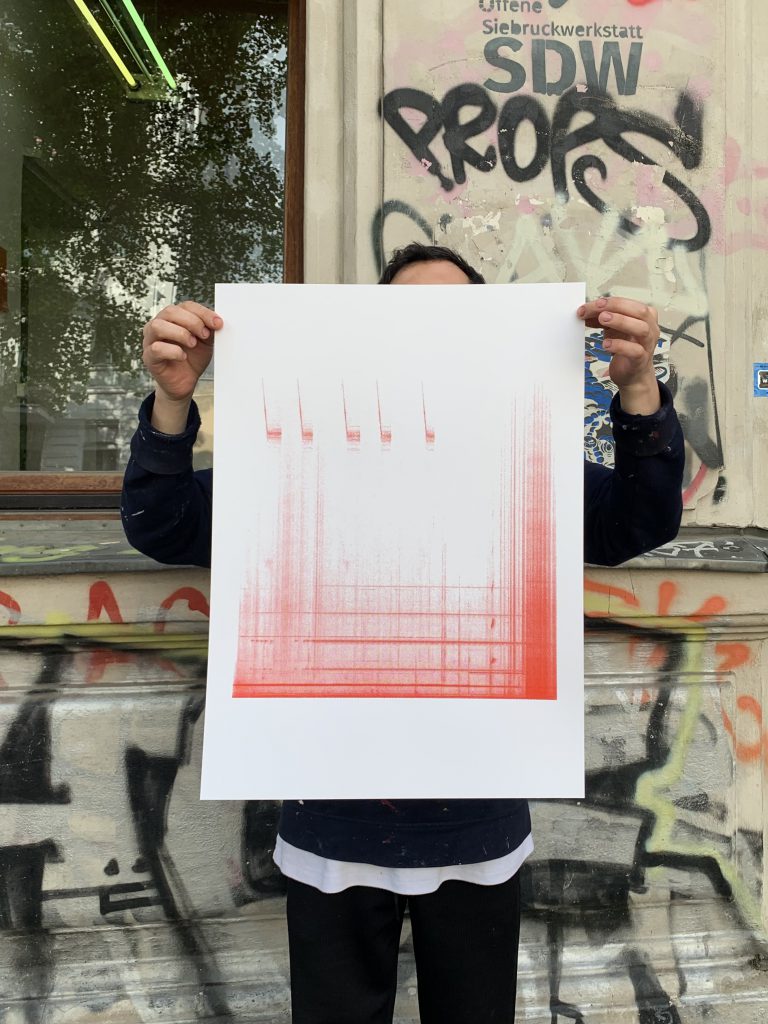 Halfsister Displays 10.06.2023
With:
Ana Tabatadze, Sophia Tabatadze, Nona Otarashvili-Becher,
Clea Carow, cvntmom, Sonya Schönberger and Ana Tcheishvili

Ana Tabatadze is showing objects with her photos and drawings
Sophia Tabatadze is showing ceramics done with Nona Otarashvili-Becher
Clea Carow – outfits
cvntmom tarot – tarot reading
Sonya Schönberger is reading from her new book STURM OF LOVE Brüche in German
Ana Tcheishvili is reading poems in Georgian, English and German
On this day u can see different art objects done by Ana and Sophia, listen to different authors, find some new outfits and get Tarot reading. Of course, you will also get some nice food and drinks!
On Display
Ana Tabatadze is showing objects with her photos and drawings
Sophia Tabatadze is showing ceramics done with Nona Otarashvili-Becher
Clea Carow – outfits
cvntmom tarot – tarot reading
Sonya Schönberger is reading from her new book STURM OF LOVE Brüche in German
Ana Tcheishvili is reading poems in Georgian, English and German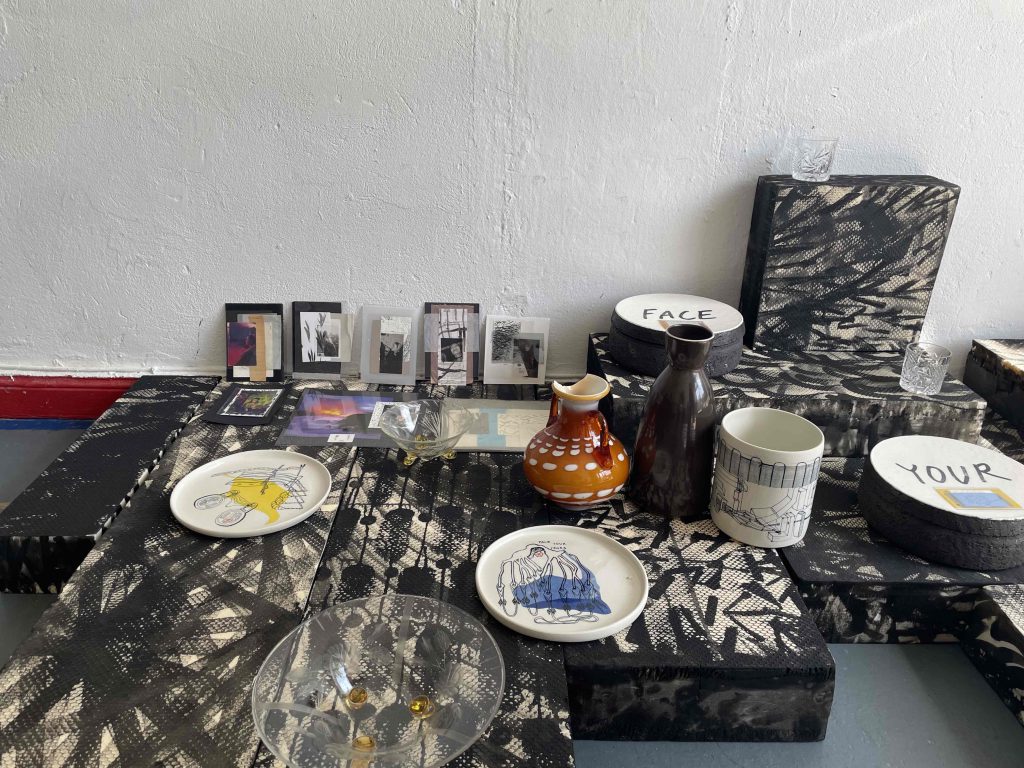 Our Data Bodies 27-29.01.2023
With:
Luise Dieckmann, Daeun Joo, Marlon Nicolaisen, Juyeong Park, Rebekka Jamila aka Rakita, Lisa Rein, Yujin Song, Kuba Stepien, Mahsa Zarififar, Marina Zauzolkova
A show & program put together by Annika Haas and Petja Ivanova
Part of Transmediale Vorspiel 2022
and contributions by
Sarah Ciston, Lukas Graf, Kristof Trakal
and the collectively created
ASTRAL GLITCH KIN ALTAR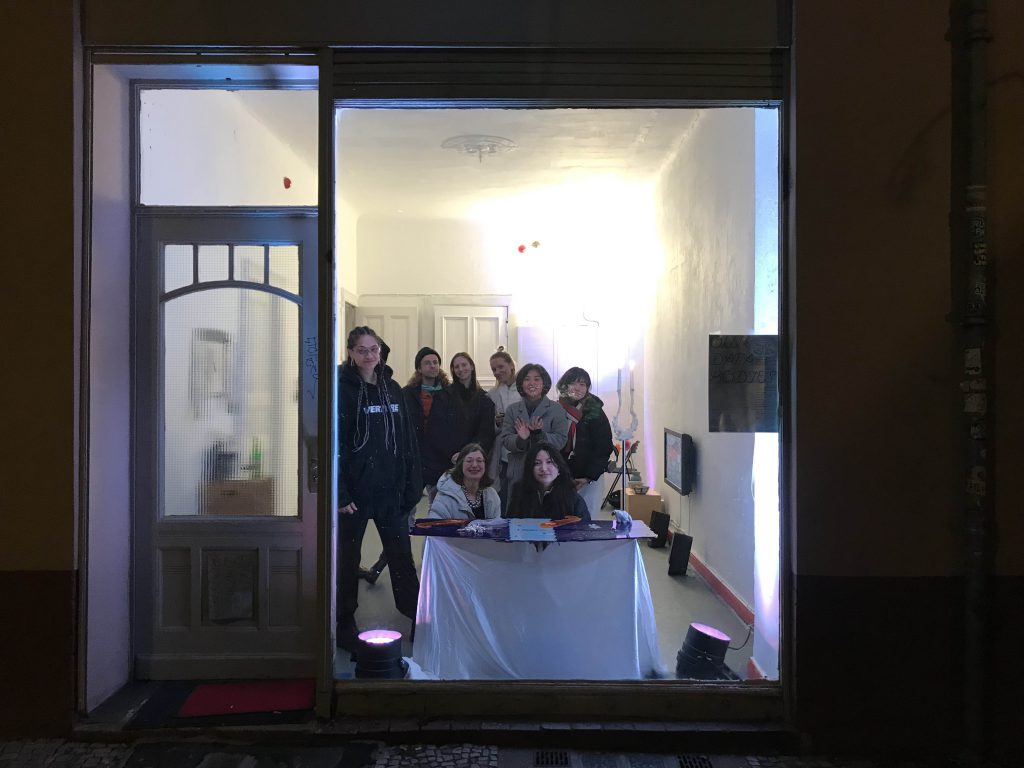 Neighbours 21-22.01.2023
With:
Lilli Kuschel
Part of Transmediale Vorspiel 2023
NEIGHBORS / non-human city life is a video installation by Lilli Kuschel about the life of crows in Berlin. This video installation follows crows in Berlin and explors a city in transformation. Rapid urbanisation is one of the most prevalent drivers for the loss of biodiversity, but crows are experts in adapting to city life. Intimate observations of key moments in the life of these highly intelligent birds and a visual research on how the animals rededicate Berlin's changing cityscape and architecture open up new perspectives on a more-than-human-world.
Lilli Kuschel is an artist, filmmaker and camerawoman. She researches on urban ecologies, the "More-than-human" and cohabitation at the University of Arts Berlin, where she teaches experimental film and media art.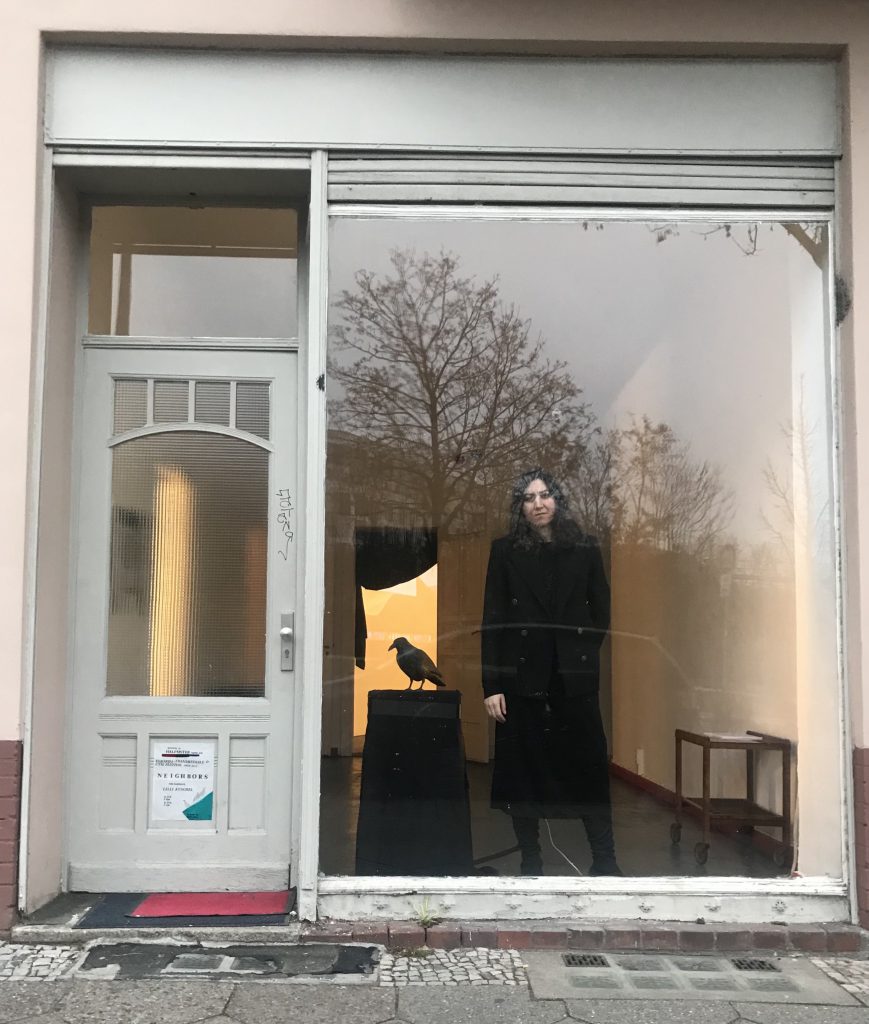 Pop-Up Market 16-17.12.2022
Vintage clothing by Clea Carow
Hair styling by Violet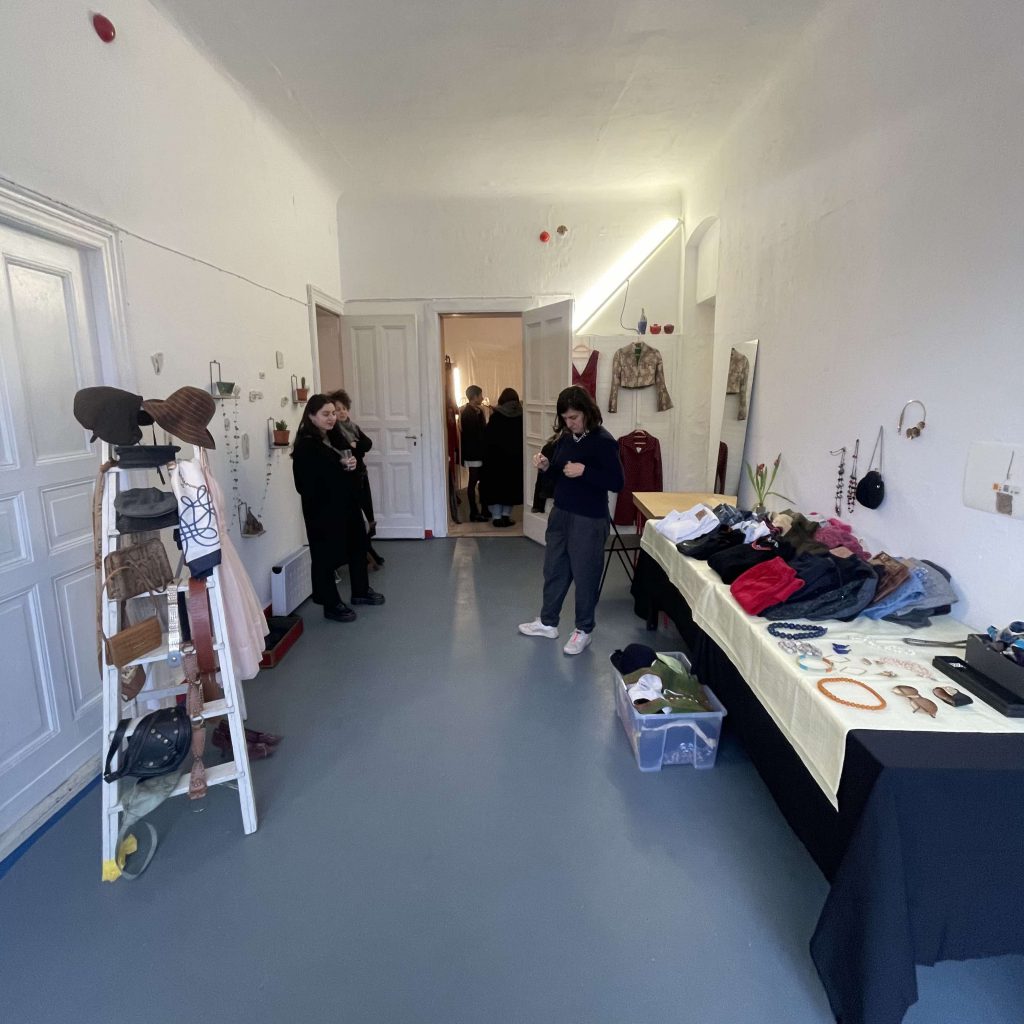 Book Presentation 28.11.2022
Book presentation of Tbilisi Architecture Biennial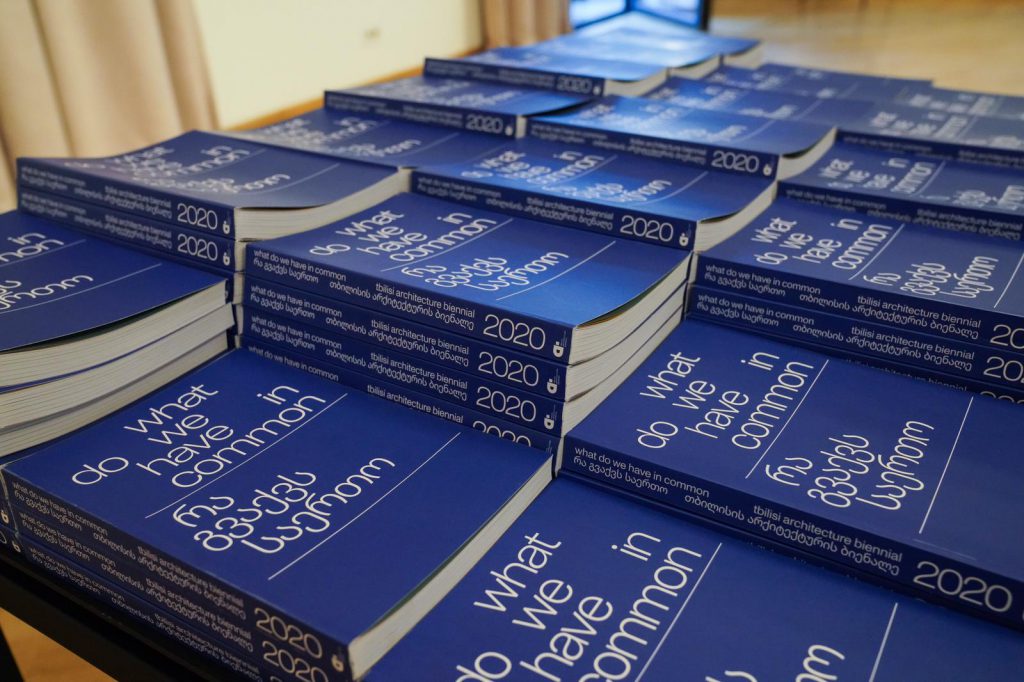 Opening show, 05-06.11.2022
In the framework of Schöneberger Art we opened our doors for the first time to public.